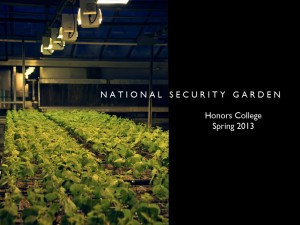 National Security Garden is a project that combines art, agriculture and technology into a temporary public installation right here on campus. Created by Professors Fabian Winkler and Shannon McMullen, this project follows the First-Year Honors Seminar about Food Security, and aims to employ an interdisciplinary approach to tackling the problem of hunger.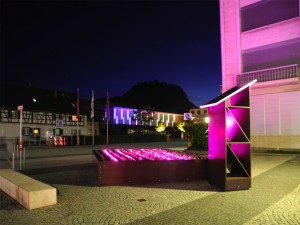 Essentially, the project is a public installation of a soybean garden in front of Elliott Hall, as well as a solar tower that powers LED lights for the garden at night. [Show pictures of NSG in Germany, day and night] As you can see, the project form is a hybrid between a garden and a field, provoking interesting ideas with regard to food production. The LED lights are red and blue, combining to produce a striking magenta.  These same lights are used in greenhouses to efficiently stimulate plant growth.  In the context of the National Security Garden the LED lights are a metaphor for the complex relations between nature and technology. In addition to the installation, we will be having a symposium and gallery exhibition later in the semester. By bringing this project onto Purdue's campus, it is our hope to stimulate conversations about food security among the variety of disciplines in the community.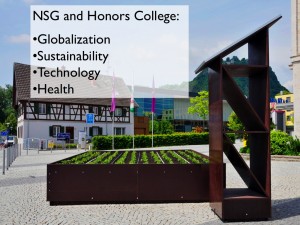 So the big question of the evening is, "How does the National Security Garden relate to the Honors college?" The most apparent connection is the fact that this project is actually the second semester of the first-year honors seminar.  Last August, Dr. Dennis Savaiano and Dr. Emily Allen led the inaugural Honors College first-year seminar, which will now be required for all incoming first-year Honors College students.  The fall semester of this seminar explored the topic of food security or rather food insecurity through a series of guest lectures and discussions.   The spring semester of the seminar allows students to use the knowledge they have learned during the previous semester and apply it in a hands-on situation.
However, I believe that the National Security Garden is more deeply connected to the Honors College.  According to a statement by Dr. Dennis Savaiano, "Honors coursework focuses on the 'grand challenges' of the 21st- century, including globalization, sustainability, technology and health."  Now not only does the National Security Garden touch on each of these topics, it develops deeply on all of them.  The global problem of food insecurity is readily apparent in the nature of this project and the conversations that the project is attempting to invoke.  The student-built solar tower represents both sustainability and technology.  Finally, the National Security Garden participant Emily Gill hits the nail on the head when she says "Poverty and food security go hand in hand, and these two things lead to health problems like malnutrition, stunted growth, and lower brain development."  By inviting questions about the conditions of food security, the National Security Garden is also inviting a discussion of their relationship to human and environmental health.
Finally the National Security Garden embodies the two main principles of the Honors College: interdisciplinary coursework and critical thinking.  This project has brought together students from every college at Purdue whether it be Jien Nee from the College of Science, Jake from the College of Liberal Arts, or myself from the College of Engineering and challenged each of us to step outside our comfort zones.  The National Security Garden let Jien Nee learn how a solar panel works.  It allowed Joe to learn the politics of food insecurity even though that is really more of Jake's thing.  Every person involved with this project has had meaningful conversations about topics they never would have talked about with people they never would have met if it weren't for the National Security Garden.  I believe this is truly what the Honors college is all about.
Coverage of the Project:
Construction group: picked out wood, built table, cut and varnished wood, solar tower
Soybean group: planted soybeans, soybeans have grown and have three leaves
Upcoming: Installation of project across from Elliott March 18-24
Upcoming: Exhibition (gallery in Stewart), opening April 26
Upcoming: Interdisciplinary Symposium, open to the public, April 22 (Earth Day)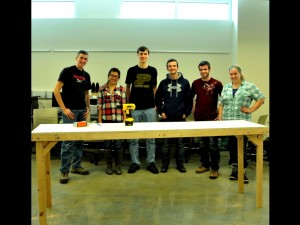 Overall, this project wholly emphasizes the idea of using all of the space we have to the greatest effect. Areas exist in everyone's backyard that they never use and in many cases, this area could be used for a personal garden. People would take pride in their own gardens as a form of self-sufficiency. This project also shows the practicality of small-scale urban farming, using some of the areas in our cities to grow food that maybe would feed our homeless citizens. We could supplement our hardworking food shelters with fresh fruits and vegetables. In a society where a McDouble goes for a dollar, these personal and urban farms can really help to provide healthy alternatives, at a cost that doesn't bankrupt our average citizen.
Just within the minds of this room, I can see the wheels turning, the connections being made on how to use ideas like this and our own backgrounds to combat this problem of world hunger. Here at Purdue, we have been contemplating how to create more interdisciplinary opportunities. The National Security Garden shows just how fruitful these chances can be. Let's make it a campus wide project, encouraging everyone to jump in and help in whatever way they can. As this project continues, we encourage you to follow us on Twitter, like us on Facebook, and track the progress on our blog at the following links. In the end, although we do realize that our 16ft by 12 ft planter box, filled with soybeans, cannot solve world hunger, we urge everyone here to see this project as the beginning to a larger conversation, one that could hopefully lead to grander projects and maybe one day, a solution to world hunger.