National Security Garden Indiana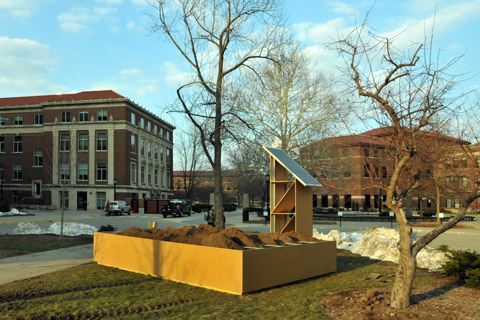 Shannon McMullen and Fabian Winkler are currently installing a new version of the National Security Garden on the West Lafayette campus of Purdue University, supported by the Honors College and with the help of students in the inaugural HONR19900 freshman Honors seminar. The installation will run from April – mid July 2013 and is accompanied by an interdisciplinary symposium on Earth Day and an exhibition in the Purdue University Galleries which opens April 26, 2013.
Project blog: http://www.gardensandmachines.com/NSGPurdueHonors/
— DEUTSCHE VERSION —
Shannon McMullen und Fabian Winkler installieren eine neue Version des National Security Garden Public Artworks auf dem West Lafayette Campus der Purdue University in Indiana, USA. Diese Installation wird durch das Honors College der Purdue University unterstützt und in Zusammenarbeit mit Studenten aus dem ersten Honors Kurs gebaut. Der National Security Garden ist von April – Mitte Juli 2013 geöffnet und wird durch ein interdisziplinäres Symposium zum Earth Day und einer Ausstellung in der Galerie der Purdue University (Vernissage am 26. April 2013) begleitet. Das Projekt schliesst mit der Ernte essbarer Sojabohnen (Edamame) im Juli 2013.